I've created an installer that enables the System Restore feature of Windows 7 to Windows Server 2008 R2. It has a few minor drawbacks. I was unable to create "System Protection" link via "Control Panel\System and Security\System". Also system protection (aka system restore) is not enabled by default on the system drive. To enable system restore on your system drive, follow my tutorial below.
Download here:
http://www.megaupload.com/?d=VKE7O03T
***Uninstaller is attached below. ***
Directions: Extract System Restore.zip to your desktop and run install.bat
Enable System Protection
1. Click on
Start
and choose
Run...
2. Type in
systempropertiesprotection
and hit enter
3. Highlight your system drive and then click on the
Configure...
button
4. In the
Restore Settings
section select either the
Only restore previous version of files
or the
Restore system settings and previous versions of files
option to enable system restore. (Restore system settings and previous version of files is preferred)
5. In the
Disk Space Usage
section set a fixed disk quota for system restore points by selecting how much disk space you would like to allocate to system restore points. Slide the bar next to
Max Usage
to a preferred selection. 20% is a good standard option to use.
Screenshots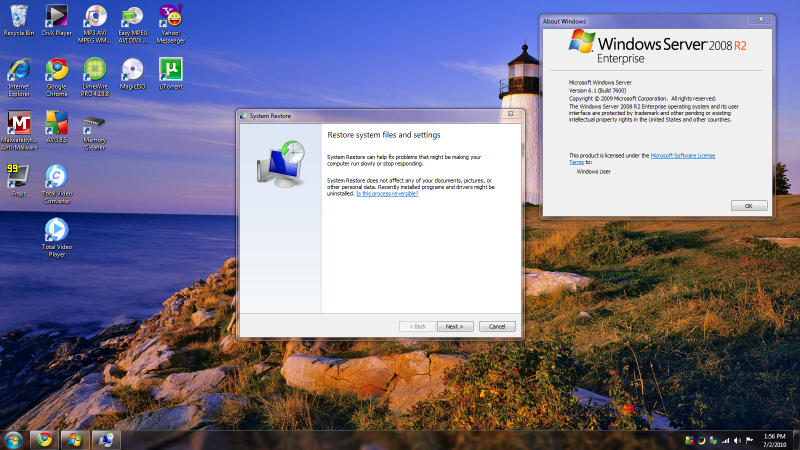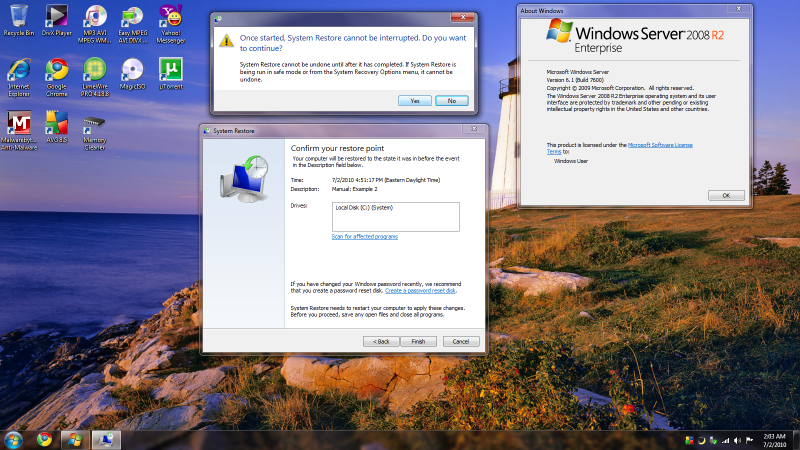 As you can see all the aspects of system restore is working normally. I can create a system restore point, restore back from a previously saved restore point, and undo a system restore as evidenced by the screenshots above. Please feel free to test this out and ensure that it is working properly.
Tips:
Change the System Restore Schedule in Task Scheduler
By default a system restore point will be created on startup or daily at 12:00AM. This seems a bit excessive and can quickly chew up your disk space. In the example below I will show you how to set the system restore points to create a normal scheduled restore point every 2 weeks. A system restore point will be generated any time a major system event has occurred (installation of programs, windows updates, driver installation) and cannot be prevented. It is this way by design.
1. Click on
Start
and type in
Task Scheduler
2. Expand the
Task Scheduler Library
folder by clicking the triangle icon to the left
3. Navigate to Microsoft > Windows >
SystemRestore

4. In the middle window, right-click on
SR
and choose
Properties
5. Select
Triggers
6. Delete "
At Startup
"
7. Highlight the "Daily At 12:00AM" option and click
Edit...
8. In the Settings section on the upper left side, change the radio button to
Monthly
9. Ensure that the Days radio button option is selected and then click the
drop down arrow
. Select your own personal 2 week schedule. For example I used 1,15,29.
10. Click the
drop down arrow
next to the Months radio button option.
11. Highlight the
<select all months>
checkbox.
12. Click
Ok.
13. Click Ok on the SR Properties window to accept the changes.
Optional: Change the scheduled time to a more suitable time than 12:00AM just in case your computer isn't turned on during those hours of the night.